CSC shop / Books / Absolved by Solidarity - paintings by Antonio Guerrero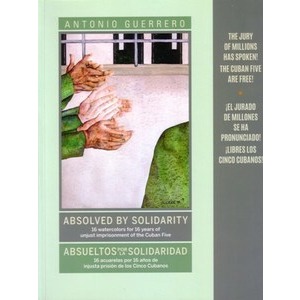 Absolved by Solidarity - paintings by Antonio Guerrero
2014 Book of 16 paintings by Miami Five prisoner Antonio Guerrero, reflecting the political nature of the Five's unfair trial and injustices of their incarceration for the last 16 years in the United States. Produced while Antonio was still in prison. He was released in December 2014.
Text is in English and Spanish.
£13.00 inc p&p
Sorry, this item is temporarily out of stock. Please check back soon.
| Check Basket |
Shop by category?
We have 335 items in our shop